Make Money with Your Cart
School Scenario

Cost of one vienna

R1-00

one roll

R1-00

sauce, 2 serviettes, gas

R1-00

Total cost

R3-00

Selling price

R10-00

Nett Profit

R7-00
Average no. of pupils in a South African School: 500.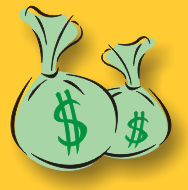 If 10% buy (50xR7.00), your profit = R350.
If they buy cool drink cans @ R1-00 profit (50xR1.00) = R50
Total Profit = R400 per day.
ALL THIS IS JUST FOR ONE HOURS WORK @ ONLY ONE SCHOOL. @ 5 days a week.
You will nett R8000 per month FOR ONLY ONE HOUR @ ONE SCHOOL.
IF YOU DO TWO SCHOOLS A DAY YOU CAN MAKE OVER R160 000-00 PER YEAR!!!
THATS RIGHT, ONE HUNDRED AND SIXTY THOUSAND RAND PER YEAR AND WORK ONLY TWO HOURS A DAY!!!!